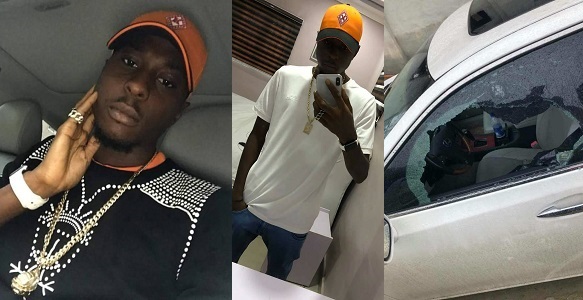 A certain young man, identified as Onome Emekeme popularly known as "Onome pounds", was yesterday assassinated by unknown gunmen.
According to multiple reports, Onome was said to be driving two ladies and some of his friends in his Lexus car when the gunmen struck and shot him in the chest along the busy road.
It was gathered that the attackers didn't take anything from the vehicle as they fled immediately after shooting their target dead.
The deceased was rushed to a hospital nearby before he passed away and his corpse later deposited in a mortuary.
According to one of his friends who took to Facebook to mourn the loss, Onome was allegedly killed because of gold worth N1 million, a report which we cannot confirm yet.
Sasha Florence wrote;
"Onome Pounds rip still can't believe you're gone.just cuz of gold.life is indeed short.we spoke not up to about 24hours ago, pls come back Jesus I still can't believe this.just like that? Ha!!!death sha. I know people die everyday but I never knew someone like you could die so early.ha.I'm still lost and short of words".
"How am I supposed to keep the promise I promised you now?ha pls I can't type rip cause you're not dead to me,you're just receiving treatments. God if he can just come back.he was killed cause of gold worth just 1m.chai friends !!!"