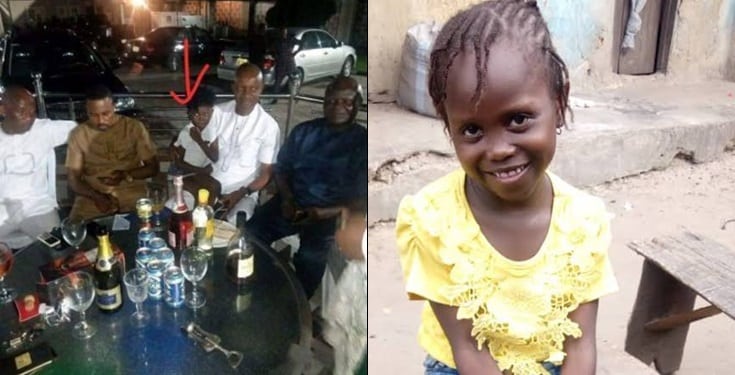 Journalist, Fejiro Oliver, who accused the chairman of Sapele Local Government in Delta state, Eugene Inoaghan, of taking viral sensation, Sucess Adegor, to a beer parlor, has alleged that some persons are threatening his life.
Recall that Oliver shared a photo of the chairman with a group of friends taking alcohol in a place he claimed to be a beer parlor
See below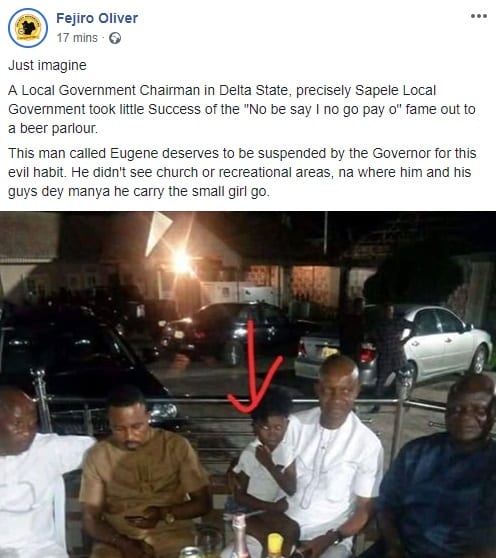 Oliver in an updated post, said he has been receiving threatening calls since yesterday. Read his update below
Update: Life under threat because of Success Adegor post
This afternoon, I made a harmless post about Success Adegor of the "no be say I no go pay viral story" on how she was spotted in a beer parlour.
Now, perception is key in everything. I called for the suspension of the Sapele LGA Council boss, Mr Eugene, for carrying success and staying with him where him and his friends were gulping alcohol. On the table are bottles of alcohol and cans of beer. For heaven's sake, why must the little girl be introduced to that?
The post has since gone viral.
I have received countless calls over the issue and given my words to some concerned persons on what they asked.
This evening, at exactly 7:25pm a number 09029287265 called me after I missed a call from that same number by 6:50pm, the voice at the background identified himself as Samuel and demanded to know if I'm Fejiro Oliver. I asked for his full name and he went ballistic.
The young man threatened that for writing against his boss on my wall, they will find me all over Nigeria and deal with as well as hack my facebook accounts.
"I will hack your number and we will track you anywhere in Nigeria".
He has just spoken the mind of the Council Chairman. I kept quiet and he ended the call. He called back again and began to rant before handing the phone to a lady who identified herself as Barrister Gloria who also poured out venom on my person, saying I want to destroy the man.
He has been in office for almost two years and I have not investigated him despite the complaints from the council staff. How then am I destroying him?
This is to Eugene, Samuel, Gloria and all their clique, the governor will not only hear this but I will take it up to the highest level.
Eugene whom we elected as a local government chairman has recruited thugs to hunt me. He should honorably quit that seat or be suspended by the House of Assembly to join the thug business.
This battle go over you. This will not be the end of it.
© F.O (God's Pen of Morality ?)